Thank you to everyone who voted in this year's edublog awards.  I was driving to Atlanta and back yesterday and missed the
awards podcast
yesterday.  This means so much to me — this blog has been nominated three times and this is the first win.  Thank you so much!  It really means a lot to me, but again, as I said earlier, the
real winners are the nominees
.
There were many amazing nominees:
Find some great teachers to read here!  I don't think we could ever have enough teacher blogs!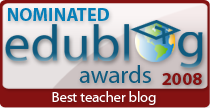 Teaching in the 408
Mrs Cassidy's Classroom Blog
Science Of The Invisible
The Cool Cat Teacher
Practical Theory
dy/dan
Web.Cad.6abc
Kevin's Meandering Mind
Creating Lifelong Learners
Teaching College Math
Bald Worm's Blog
Betty's Blog
Songhai Concept
Bellringers
Science Teacher
Sliced Bread
The Journey
Reflections on Teaching
Cliff's Notes
Endless Forms Most Beautiful
OllieBray.com
Nashworld
Box of Tricks
Mysterious Teaching
The Why of it all
Always Learning
On an e-journey with Generation Y
ICT in my Classroom
Educating Alice
Kenneth's ESL Blog
And the Flat Classroom project 2008 received the eblog award for best Wiki. 
Here are the many nominees – also who deserve you to take the time to look: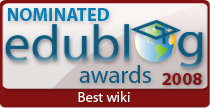 eToolBox
The 2008 Comment Challenge
Kidpedia
Educational Origami
WikiEducator
S.D.Public School, Pitampura
Learning in Maine
Digitally Speaking
Clif's Wiki
Miss Baker's Biology Class
F-ALT
Salks Periodic Table
Flat Classroom Project 2008
School AUP 2.0
Useful Wiki
Digital Media Across Asia
Never miss an episode
Get the 10-minute Teacher Show delivered to your inbox.