Just a note that Edublog Award voting closes sometime today. Thanks for the tweets of those who have nominated me or voted for some of the projects that I work with. It means so much.
It is so interesting that somehow these awards recognize many of the people that for whatever reason "cannot" win other awards. Private school teachers, those not "in" with their political powerhouses, and international teachers are often left without any mechanism to recognize their work. For this reason, perhaps, for me, being included on the short list is very meaningful.  Here are the nominatios I have open.
Two in category of Best Wiki.
Westwood Wiki and Flat Classroom Wiki nominated in 
best educational wiki category.
This blog has been nominated in two categories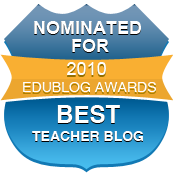 Finally, as I mentioned in my 5 year old Blog post, it is indeed a tremendous honor to be included in the list for lifetime achievement. I do believe that the voters will make a good choice on this and also just want to say that perhaps that award should go to someone who has been in the educational "public" arena for longer than five years. Again, being nominated is a huge deal to me and actually brought tears to my eyes. Five blog years can seem like a lifetime.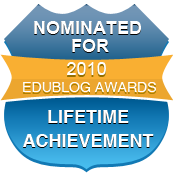 Thank you again, for those who take time to vote. If you're a legitimate educator with an opinion — no matter how you cast your vote, you give more credence to these awards and I ask you to go vote and let your opinion be known.
Again, thank you for those who have voted.
Never miss an episode
Get the 10-minute Teacher Show delivered to your inbox.