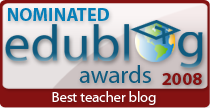 Lots of great nominees for the 2008 edublog awards – have a feeling we may have to have some runoffs.
I always have done nominations but didn't this year because the nominations had to be in the form of a blog post — here publicly.  So, I wanted my nomination to be "right" and was worried about the hurt feelings that it might cause to pick just one in each category as there are so many amazing edubloggers.
But perhaps the real reason I didn't nominate is just that I've spent a lot of time with family and Mama lately and wasn't able to get online to blog it.
Anyway – I DID vote and now is the time.  It is so exciting to be nominated again for the Best Teacher Blog and Flat Classroom 2008 as the best educational wiki.
A sincere thank you to those who nominated the Flat Classroom wiki and this blog for these awards — it means a lot to me!! Thank you!
The problem with awards
No process will be perfect and each year it has its flaws.  The sad thing about awards is that only one person or blog can win it and sometimes it has the negative effect of making people feel worthless or down about it.  There are some really great bloggers who aren't on the finalist list!
So, yes, vote and whoever wins can bask in the honor of "winning" but remember that the real winner is anyone who blogs in education!!
Edubloggers ARE Winners!
Anyone who wants to share their best practice and help others.  Anyone who believes in students and the nobility of teaching.  Anyone who takes one second to share with others and encourage other teachers to be more — YOU are the winners!
For the blogosphere is a dynamic, awesome, wonderful thing and it is made up of the bloggers, commenters, and readers and even the offline communities that discuss them — it is about education working to answer it's toughest problems and encourage each other to be better, work smarter, and do more with dwindling resources.
It is one of the greatest privileges of my life to be a member of the edublogosphere.  And anyone who persists and continues to blog deserves a HUGE award!!  
So, give yourself a pat on the back, you're part of the edublogosphere — a noble, committed, hard working group of people who love kids and care about education.  It is a great place to be!
Never miss an episode
Get the 10-minute Teacher Show delivered to your inbox.